RESET® Air AP Educational Intensive & Exam | September 19 | North America + Europe
Date
Sep 19, 2023 8:00 AM - 12:30 PM [-07:00]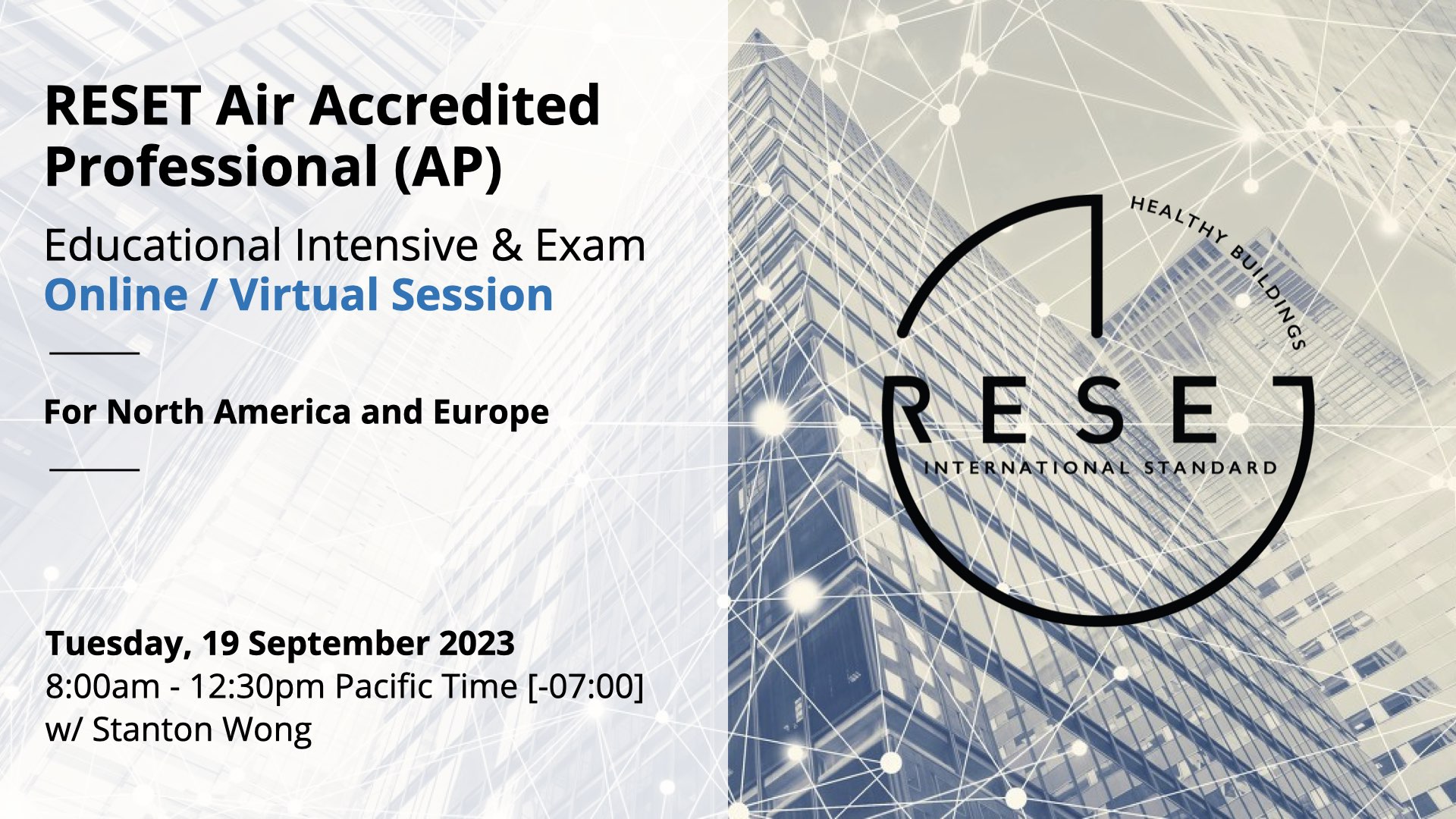 We are excited to announce the next RESET Air Accredited Professional (AP) Online Educational Intensive & Exam for aspiring professionals in the building industry and/or air quality space. Click here to see the current AP Directory.
WHEN & WHERE
Tuesday, 19 September, 2023
8:00am - 12:30 PT (UTC-7)
11:00am - 3:30pm ET (UTC-4)
4:00pm - 8:30pm London Time (UTC+1)
via webinar
HOW TO REGISTER
Session Fee: US$450.00
To register for this session, please send us an email at info@reset.build with the subject: "RESET AP Exam - Sep 19" and the following information (used for the invoice):
Legal Company Name for Invoice (if there is no company, just write "self")

Legal Company Address
Payment options includes wire transfer or credit card (additional $60 processing fee required).
WHAT TO EXPECT
Taught by a RESET Air Professional Trainer, Education Intensives are half-day sessions where qualified attendees will receive a thorough review of the technical aspects of the RESET Air Standards and the steps required for monitor deployment.
Upon completion of the session, registrants will be able to:
evaluate building typologies according to the RESET Air Standards

understand the requirements for proper monitor deployment and installation

calculate total air volume according to the RESET Air Standard for CS

present holistic approaches in order to help project teams attain RESET Air Certification

Immediately following the Education Intensive, registrants are eligible to take the RESET Air Accredited Professional practical exam which will verify their comprehension and deployment calculation capabilities.
PRE-REQUISITES FOR THE EDUCATION INTENSIVE
In order to be allowed entrance into the Education Intensive and be eligible to take the practical exam, registrants are required to have completed viewing all of the RESET Air Accredited Professional webinar modules and complete the online knowledge exam.
For more information about hte process, please go to https://reset.build/programs/ap/process-air.
WHO SHOULD BECOME A RESET AIR ACCREDITED PROFESSIONAL (AP)?
Building Owners and Managers: RESET Air's modular approach enables building owners and managers to integrate improved IAQ and occupant wellbeing in an affordable and scalable way. RESET Air helps to build a foundation for other building standards.

Equipment Manufactures, Engineers, and Solution Providers: RESET Air is a sensor-based and performance-driven, indoor air quality building standard and certification program focused on operational results. Learn how your equipment and services can contribute to the RESET Air Standard.

Professional Consultants: RESET Air's modular, scalable and affordable approach enables consultants to engage with and retain more clients and projects, as well as create new service models
---
About RESET Air
RESET® Air is the world's first sensor-based, performance-driven building certification program where indoor air quality is monitored and measured in real-time. Buildings and/or spaces are required to consistently maintain healthy indoor air quality at all times, as defined by the Standard. RESET Air is comprised of comprehensive standards for hardware or sensor performance, installation, maintenance and data communication. Learn more about the RESET Air Standard here: https://reset.build/standard/air.